Are you interested to buy Dragon Fruit cuttings? Please E-mail us! Right now we paused the "Dragon Shipping" for a short periode of time, because the weather is to cold for sending the the beautiful baby cuttings 🙂 Ask us for the possibilities if you can't wait until March 2020
These are the types of Dragon Fruits we have available. We cannot compare with a real dragon fruit farm, but we have the following collection:
American Beauty
Condor
Dark Star
Delight
Florida Red
Giant Vietnamese
Hailey's Comet
Makisupa
Natural Mystic
Purple Haze
Red Jiana
Rixford
Seoul Kitchen
Thai Dragon
Thomson
Vietnamese White
Voodoo Child
Surinam Red (not an official name)
Wiangel (not an official name, is a "jungle species")
We can also separate the Pitaya types by color
There are large and small dragon fruits. The dark red dragon fruits has various pulp colors on the inside. It varies from dark red, magenta, purple to pink with all kinds of different flavors.
The outside of the white dragon fruit is red, but the pulp is white. The texture is from creamy to crispy and the taste is also different. In general, the taste of the dragon fruit can be sweet, or sweet with fresh acid. There are those that can be compared with the crunchiness of a kiwi, the taste of grape, melon or as an ice cream.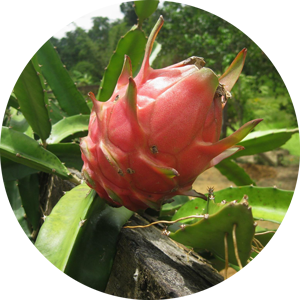 We have the following colors available
Red dragon fruit (Red Pitaya)
Pink dragon fruit (Pink Pitaya)
White dragon fruit (White Pitaya)
Purple dragon fruit (Purple Pitaya)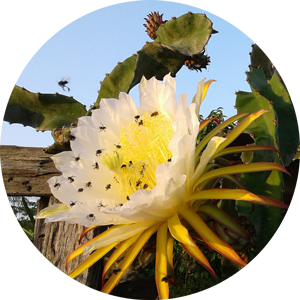 Order / Buy the cuttings you want by adding them to your basket
Dragon Note: We did not upload all the images yet. We are busy making new beautiful pictures of each kind. All the pictures will be online as soon as possible!
Our Dragon fruit cuttings / plants – for sale
Why buy our fruit cuttings?
Many people let their dragon fruits branches grow all the way to the ground. We can not do that because in Suriname there is a danger that snakes and other animals can hide between them. So we are forced to prune our dragon fruits plants regularly. After providing all our neighbours with these other types of dragons, we have too many cuttings left and we can offer the dragon fruit plants for sale. That is why we can deliver them cheaply and the cuttings are always fresh and of good quality. Even though it is not a dragon fruit season, we can always supply cuttings.
Buy dragon fruit cuttings online (Pitaya plant)
You can buy the dragon fruit cuttings from us online. We always have a few in stock, but we prefer pruning the cuttings on request. They are sent to the Netherlands as quickly as possible where they are professionally packed for forwarding.
How to plant Dragon Fruiting Cuttings
The dragon fruit needs a post to grow along. We use wooden posts in Suriname so that the aerial roots can attach themselves well. The post is in airy soil. If the place gets too much water, it is advisable to turn the planting hole into a mound. They do need water but cannot be submerged.
Growing the cuttings
When the plant has reached the highest point of the post, a few cross posts must be fixed so that the dragon fruit plant can "hang". It will then grow downwards and the plant could already make the first flower buds. If you have limited space, you can also plant dragon fruit in a large bucket with a post in the middle. The post does not have to be high, as long as the plant can "hang". This is a way how to grow dragon fruit cuttings.
About the Dragon Fruit Plant
We know dragonfruit as Pitaya fruit or Hylocereus. It is a cactus-like plant that, with the help of aerial roots, makes its way up a post. We have a collection about 19 species that have been largely purchased from Matts Landscape in California. We already had the common species that occurs in Suriname. A strong commercial grower and bloomer with large fruits between 500 and 800 grams. No one here knows which variant it is, so we keep it on the
name: Surinam Red.
In our search for the yellow dragon fruit we encountered so many different types of dragon fruit plants that the choice was difficult to make. With our collection as a result. The yellow dragon fruit was not in stock and we still not have purchased it.
Dragon fruit tree? or plant?
Some people speak of a dragon fruit tree, but that is not correct. It remains a climbing plant, but because the plant can occupy the entire wooden post, it looks like the plant has a true trunk.