Follow Us & be part of our Family
We sold a lot this year! As a result, we were very curious about the best-selling products. Is our top 5 the same as yours? We sell many different kinds of tropical fruits and seeds. In this blog we made a nice overview of your top 5 and which ones we are very satisfied with! Are you curious about our top 5 tropical fruits & seeds? These top 5 tropical fruits and seeds are our best sold products according to our statistics:
Bicolors
Lemondrops
Selloi
Vexator
Uvalha
Do you recognize these popular tropical fruits and seeds or have you ever tried one of these?
1. Theobroma Bicolor (White Cacao)
Our most sold and popular tropical fruit is the Theobroma Bicolor, also known as the mocambo tree or jaguar tree. This tropical fruit is a great cacao type and has a lot of yellow flesh. It has a soft and sweet taste with a pit inside. You can use the pits to grow your own bicolors. You can eat this fruit fresh or use it to prepare juice, desserts or ice cream.
Taste: Soft and sweet taste
Nutritional value: Similar to the cacao tree, the Bicolor seeds are edible and rich in proteins, omega 3's and fiber!
Origin: Central- and South America
2. Lemondrop Mangosteen (Garcinia Intermedia)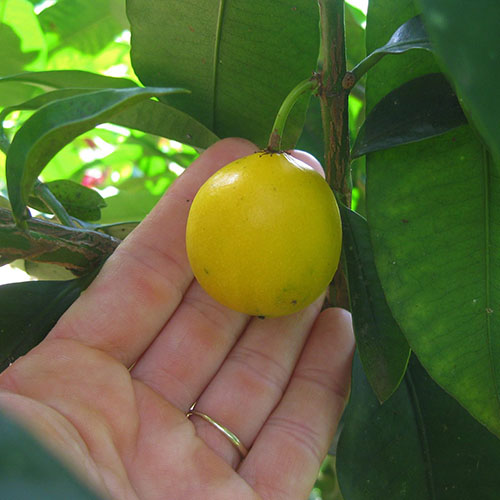 The second favorite among the tropical fruit lovers of Seeds del Mundo is the small-sized Mangosteen. The Mangosteen is a relative of the Mangistan and mainly grows in Southeast Asia, but also in Central-America and Mexico. It's texture is small, round and is yellow/orange in color. The Lemon drop is usually eaten out of hand, but you can also mix it in a juice.
Taste: The Lemondrop is a little bit acid mixed with a sweet taste. The more orange it becomes, the less acid it is.
Nutritional value: The Mangosteen is a good source of vitamin C, fiber and some essential minerals like copper and magnesium.
3. Eugenia Neonitida (Selloi)
The third popular tropical fruit among our customers is the Selloi and looks like a giant yellow cherry. This is a small and yellow exotic fruit which originates from Brazil. What is your experience with this desirable exotic fruit? Let us know in the comments!
Taste: This fruit is aromatic sweet with some sour and very delicious.
Health benefits: According to research the Selloi is a good source of bioactive compounds and to regulate the inflammatory process.
4. Myrciaria Vexator
The Myrciaria Vexator, false Jaboticaba or blue grape tree is a species of plant in the Myrtaceae family. The seeds bear a small, dark and purple piece of fruit with a taste similar to the grape fruit. The tree can grow up to 10 meters tall.
Taste: The flesh is soft and sweet just as the Bicolor
5. Eugenia Pyriformis (Uvalha)
The last one of the top 5 popular exotic fruits of 2020 we sold, is the Uvalha. It smells just a little bit like a peach. The Uvalha tree originates from Brazil and can grow between 6 to 13 meters high! You can eat this fruit just straight away when it's fresh or make a juice with it.
Taste: The taste is sweet and sour with a small texture
Our opinion on the top 5 best sold fruits and seeds
Not only here at the office we regularly enjoy these top 5, but also where they are harvested in Surinam. My favorite is the Bicolor, but my coworker loves the lemon drops the most! Other different kinds of tropical fruits are also very popular to eat for us. Which of the top 5 tropical fruits and seeds is your favorite? Let us know! Have you not tried one of these tropical fruits? Then you should definitely check out our webshop. Click here to see all different types of tropical fruits! For more information about our fruits and seeds, please contact us.
Share this with you Friends? Click below 😀