Who doesn't love beautiful flowers to make your garden look amazing. Flowers, tropical flowers and subtropical flowers in your garden will give you a great feeling, when walking through the garden. If you plant the seeds the right way in your garden, they will grow to beautiful tropical flowers. In this blog post we will discuss three tropical flower seeds types and where you can buy them. Read further!
Types of tropical flower seeds
There are many types of tropical flower seeds. We will discuss 3 types of flower seeds down here below.
Tropical flowers come from tropical locations, especially those that are located close to the equator, and they grow in hot and moist climates. But these flowers can also grow as houseplants.
Caesalpinia pulcherrima (Peacock Flower)
The Caesalpinia pulcherrima is a beautiful and popular yellow/orange/red flower also known as the peacock flower. Due to its widespread cultivation, the exact origin country is unknown. What we do know is that the flower is native to the tropics of America. The peacock flower is a 3 meter long shrub. In climates with few to no frost, it can grow bigger. All the seeds of the Caesalpinia are poisonous, however some seeds are edible before they reach maturity.
The Gustavia gracillima (Heaven Lotus Flower)
The Gustavia gracillima grows in a tree and has a diameter of 20-30 centimeter. The flower grows in a tree that can be 6 meter or even bigger. The tree comes originally from Colombia, but now you can find it also in South-American countries.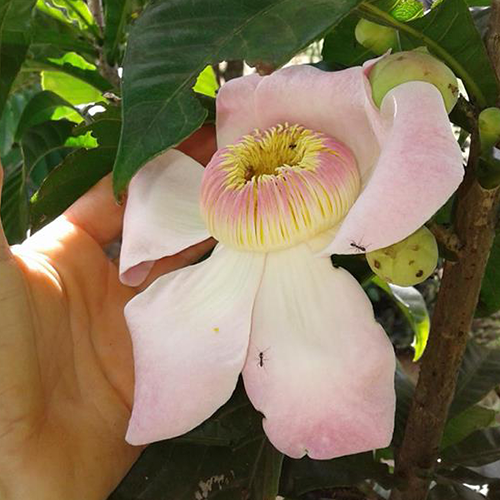 Impatiens walleriana
The Impatiens walleriana has a pink/red/white colour and does it very well in the tropics or colder areas. This flower brightens up your garden for a long time, when you give it regular water, because it's a very thirsty plant. The flower is 30-60 centimeters high and is a solid plant, which originates from the mountains in tropical Africa and Zanzibar.
Where can I buy tropical flower seeds?
In our webshop you can easily buy the tropical flowers you want. Do you want to let your garden look beautiful? Then you must have beautiful tropical flowers in your garden. We sell our flowers for a very affordable price, so check it out! You will get 10 seeds for just 1 euro. Your tropical flower seeds are:
Fresh picked flowers
Powerful germination
Quality selected
Packed with love & care
When to plant tropical flower seeds?
Are you a flower lover or do you want to add some tropical colours to your garden? Then the tropical flower seeds are suitable for you! You can buy the seeds throughout the whole year. There are plenty of options to grow your tropical flowers. The tropical flowers will best grow in an environment of sun and rain. In the winters tropical flowers will not grow at their best outside, so you can easily let them grow inside in your house.